Dopo la hit globale "Hello" con Martin Solveig e oltre 180mln di streaming solo su Spotify, Dragonette torna con "Phantom" prodotta dal francese Gianni Kosta e per l'occasione le ho posto qualche domanda. Buona lettura!
Un salto nel passato…
Dragonette ha avuto un'ascesa decennale dall'indie rock alla pop music, avendo hit indimenticabili come "Hello" con Martin Solveig, "Peanut Butter Jelly" con Galantis e "Outlines" con Mike Mago che, in aggiunta al loro album, gli ha permesso di ritagliarsi un posto nel cuore di milioni di fan in tutto il mondo. La band canadese ha una lunga storia di live-tour in giro per il mondo e ha collaborato con artisti come Martin Garrix, Martin Solveig, Mike Mago,  Galantis, Kaskade, Basement Jaxx, Paul Harris, Autograf e Big Data tra tutti gli altri. La loro musica è stata inserita in più di 75 tra film e serie televisive tra cui "Grey's Anatomy", "The Hills", "CSI Miami", "90210" ed è stata utilizzata per gli spot televisivi di Toyota, Macy's, JC Penney, Target, Kraft, Trident e Sony Playstation e altri.
Ciao! Benvenuta su Andre1blog!
Tre aggettivi per descrivere  Dragonette ad oggi?
Indie Pop Explorer
Ricordiamo le vostre hit come "Hello" con Martin Solveig, "Peanut Butter Jelly" con Galantis e "Outlines" con Mike Mago, grazie alle quali siete entrati nel cuore di milioni di fan in tutto il mondo. Qual è l'ingrediente fondamentale che ha determinato tutto questo incredibile successo?
Credo che tutte queste canzoni emergano differentemente dalle altre che passano in radio o nei club. Il mio processo di scrittura non proviene da un background pop o dance. Io arrivo dalla musica Folk e Jazz quindi quando mi approccio alla musica pop o dance viene fuori qualcosa che può suonare un tantino strano e anomalo, per cui le persone sono attratte dalla questa stranezza.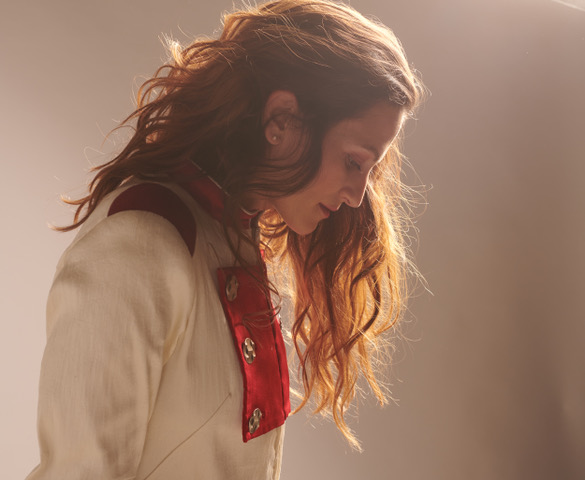 Qual è il tuo rapporto con l'Italia?
L'ultima volta che ti sei affacciata per un live sulla penisola?
L'Italia è la mia casa spirituale! Sono per metà italiana e ho frequentato una scuola in un paesino in Abruzzo per un anno. Forse l'anno migliore della mia vita. E' da un po' che non vengo a suonare in Italia, l'ultima volta è stata circa 4 anni fa a Firenze e poi un sacco di promo radio tra Milano e Roma. Mi mancate!!
Chi sono gli artisti italiani (cantanti/produttori) con i quali ti piacerebbe collaborare in futuro? 
C'è una band che ADORO: Il Genio. Ma non ho sentito più niente di loro e non so se sono ancora attivi. So però che Jovanotti fa ancora musica e se tu riuscissi a mettermi una stanza con lui sarebbe fantastico! 
Pensi che moda e musica viaggiano su due binari paralleli?
Quanta importanza attribuisci allo stile?
Da un certo punto di vista le due cose hanno un legame importante, ma d'altro canto è davvero bello quando la musica è semplicemente musica. Quando lavori a un bravo o a un album ovviamente vuoi che il lato visivo sia coerente nella giusta rappresentazione del tuo lavoro e la moda è un fattore estremamente rilevante in questo. Ma prendi ad esempio Lady Gaga, secondo me lei si è intrappolata nella moda. La sua musica è inseparabile dalla moda e lei è forzata a rappresentare ogni canzone con un outfit stravagante. Dev'essere stressante! Così le canzoni non posso esistere come un mondo a sé. 
Il 19 Febbraio è uscito "Phantom" con il talentuoso artista francese Gianni Kosta. Com'è nata questa vostra collaborazione?
Gianni Kosta aveva una traccia che è finita tra le mie email, dove finiscono MOLTISSIME tracce. Ma molte delle tracce che ricevo suonano come tutto ciò che gira e non mi ispirano. Quella di Gianni invece lo ha fatto! Ho iniziato a scriverci su, poi ci abbiamo lavorato a distanza per un po' ed ecco il risultato! Adoro questa canzone e adoro ciò che Gianni è riuscito a farci!  

ENGLISH INTERVIEW
Hi Dragonette! Welcome to Andre1Blog! How would you describe "Dragonette" in 3 words?
Indie Pop Explorer
You won a place into your fans' hearts from all over the world with your hits singles like "Hello" with Martin Solveig, "Peanut Butter Jelly" with Galantis and "Outlines" with Mike Mago. What's the ingredient that determined this incredible success?
I think all those songs stand out in a way from other songs you might hear on the radio or on the Dance floor. My songwriting is not really from a pop or dance background. I come from a background of folk and jazz music. So when I write pop/dance music it sounds maybe a bit strange or anomalous so people tune into those songs because there's a strangeness to them.
What's your relationship with Italy? When was the last time that you had the chance to perform on the Peninsula?
Italy is my spiritual home! I am half Italian and I went to school in a small town in Abruzzo for a year. Maybe my favourite year of my life. But it's been a while since I performed there. I played about 4 yrs ago in Florence and did a bunch of radio promo in Milan and Rome. I miss you.
Is there any italian artist you'd like to collaborate in the future?
There is a band that I LOVE called Il Genio. But i haven't seen anything new from them in a long time so I don't know if they are still making music. But I know that Jovanotti is still makes music so if you can get me in a room with him, that would be great.
Do you think fashion and music work in parallel? Is style important to you?
To a certain extent I think these two things have an important connection. But on the other hand, it can be refreshing when music is just about the music. When you work on a piece of music or an album you obviously want the visual side to be right and to represent your work in a thoughtful way. And fashion is a major factor in that representation. But if you think about, say, Lady Gaga, in my opinion, she put herself into a bit of a fashion trap. Her music is inseparable from fashion and she's forced to represent every song with outrageous apparel. That must be exhausting! And the songs can never really just exist by themselves.
On February 19th you released your new single "Phantom" featuring the talented French artist Gianni Kosta. How did you start working together?
Gianni Kosta had a track that somehow ended up in my in-box, where a LOT of tracks end up.
But a lot of those tracks just sound like a lot of other tracks and don't inspire me. But his really did. So I started writing on it. Then we passed it back and forth for a while and this is where we ended up. I love this this song and I love what Gianni did with it.
DRAGONETTE
FACEBOOK
INSTAGRAM
TWITTER
DRAGONETTE.COM